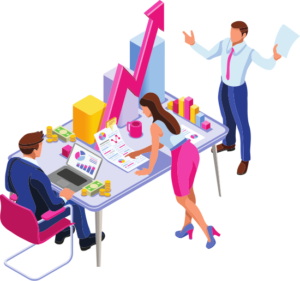 As we settle into the working world in the time of COVID-19, a lot of us are also trying to figure out the new rules of business. If you're feeling overwhelmed by the process, now is a perfect time to consider outsourcing some of your workloads.
And in case you're worried that handing off some of your work to others might seem like slacking, some experts think just the opposite is true. "Outsourcing is a rock star move that everyone should be using. It improves efficiency and
productivity," enthuses Karen Swim, founder of Solo PR Pro a national industry membership group that provides tools, education, advocacy, and community resources for thousands of independent PR consultants. Swim explains that "When you outsource, you are bringing in a resource that specializes in that task, hiring experts who can get it done faster, better and cheaper than someone who is tasked with multiple responsibilities."
In other words, by focusing on individuals on specific tasks, you might be alleviating the pressure of one person trying to take on too many things. More than that, Swim says that when you outsource parts of a project "Companies can keep their internal teams focused – an even bigger problem in the age of communication overload – on core competencies and mission-critical tasks."
Content creator Willow Paule recently shared a Facebook Live on outsourcing and she explained some of the reasons that outsourcing works. "I've had my own small business since 2009," Paule explained and she's "had the opportunity to observe the pros and cons of outsourcing. From hiring contractors to build my business to working as a virtual assistant and content creator with remote clients of my own, I've learned first-hand about what works when outsourcing."
Face your fears
Paule explained the greatest fear some people face when considering outsourcing: "I think some small business owners and creatives feel confused about what outsourcing entails. They are afraid they will have to spend too much time describing their vision and assigning the projects, and that it will be too complicated to hand off the work. Or
they are afraid that once they hand the work off, it won't be prioritized or the contractor they work with will be flaky and not complete the job." While these are all valid concerns, Paule believes if you carefully vet the contractor and if you are very clear about goals and expectations, "the benefits outweigh the risk."
It gives you more time to plan or explore your creative side: When you hand off nudgy aspects of your job to someone else, it affords you more time to create a strong strategic plan for what comes next. When you are laser-focused on getting your job done you might not stop to think about the parts that someone else could do better or faster. Besides, if you're terrible at bookkeeping why torture yourself to manage your invoice when you can hire someone to do just that? "Decide what is taking too much time, or you're not equipped to do well," advises Paule. "If there is too much of a learning curve or if you know someone could do it better, why not outsource? Get rid of projects you hate and focus on your zone of genius and strategic planning for the health of your business."
Pro tip: Lose the guilt about outsourcing elements of your job that you despise. It's entirely possible that someone else loves doing the parts you loathe.
More than that, while most of us are social distancing, there are still parts of your job that you can outsource to allow you to have more time to concentrate on the major tasks. Swim said, "Even individuals can benefit from outsourcing. For example, you can outsource bookkeeping, house cleaning, and grocery shopping, freeing you up to concentrate on higher-value tasks." In my own life, I'd be lost without outsourcing and the gig economy. There is no way I'd survive
without the village that keeps me fed and helps me run my business."
Vet carefully
One of the biggest mistakes people make when outsourcing parts of their job is not vetting the people they plan to work with or hire. Paule said some good ways to vet independent contractors include:
Checking their website, portfolio, and social media. Paule says to ask yourself "Do you like their work, and can you picture them creating something for you? Do they have references and/or testimonials?"
Assessing their responsiveness before you start working with them: Do they respond to your emails? Do they carefully answer your questions? Do they communicate clearly and kindly? If someone snaps at you or responds sluggishly, they might not be your perfect fit.
If you have a boss, you should probably check with her before hiring anyone, unless your own responsibility is providing work, no questions asked. Paule says to "Always use a contract to specify the agreement clearly, and make sure the scope and specs of the project are clear so that you don't get stuck paying for work you're not happy with." While you're at it, "Carefully read the contractors' contract before signing it and ask questions if things aren't clear."
One of the best parts of working with independent contractors is that they could have a lot more flexibility than a large corporation. If it's your first time working with someone and you feel uncomfortable paying upfront for a job, Paule suggests asking if you can pay in increments as defined milestones in the job are completed. Or ask if you can make a deposit and then pay the balance at the end of the project.
Outsourcing will likely see a huge uptick during the current coronavirus crisis since as Paule explains, "I think large businesses may be feeling conservative and unwilling to hire new staff, so this could cause a spike in outsourcing to independent contractors." And unlike corporate behemoths, "Many contractors are happy to work on small projects and don't require a minimum number of hours. I hope that during this time of uncertainty, people will make an effort to hire small business owners and creatives, who may otherwise struggle. Social and work distancing makes hiring remote help a practical solution during the pandemic."
What happens if the relationship doesn't work out? Paule says to trust your own intuition. Ask yourself if you're connecting with this person. "Chances are you'll be working with this contractor online and not in person, so make sure that you're on the same wavelength." While you're at it, start small to avoid any unwelcome surprises. "Assess the persons' work on a smaller, highly defined job. If you're pleased, it can be the start of a great relationship."
credits/source: laddernews