TRU29 Solutions Inc. is excited to share some great news with all our employees and stakeholders. We are thrilled to announce our new partnership deal with Garahe Grounds, a local upscale cafe in Antipolo Rizal!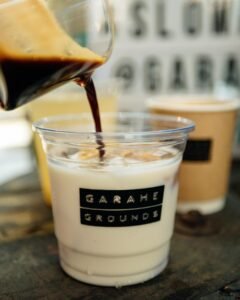 This partnership aims to enhance our employees' dining experience at our operations site in Strata 2000. We understand the importance of a pleasant and comfortable dining environment, and we believe that this collaboration will greatly contribute to our employees' overall well-being.
Garahe Grounds is known for its cozy ambiance, delectable menu, and friendly staff. By bringing their expertise and top-notch services to our premises, we are confident that our employees will enjoy a refreshing change in their daily dining routine.
With this new cafeteria upgrade, our employees can look forward to indulging in gourmet coffee, freshly baked pastries, and a variety of delicious meals. Garahe Grounds will also offer special promotions and discounts exclusively for TRU29 employees.
We believe that a well-fed and satisfied workforce is a productive workforce. By providing our employees with a delightful dining experience, we are fostering a positive work culture and promoting employee satisfaction.
We are grateful to Garahe Grounds for partnering with us in this endeavor, and we look forward to a fruitful collaboration. Stay tuned for further updates on the grand opening of our revamped cafeteria!
For more info about Garahe Grounds, feel free to check their social media pages below:
Garahe Grounds Facebook | Garahe Grounds Instagram